A family affair
---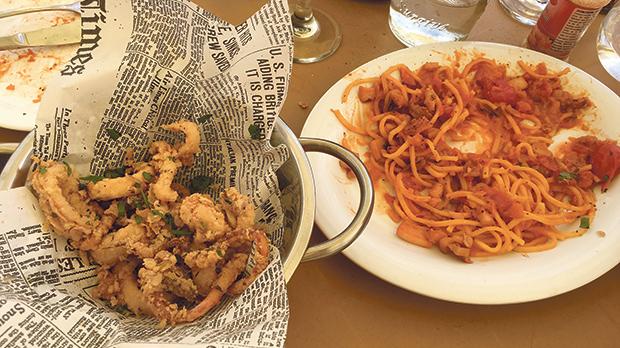 My appetite had returned with a vengeance after being very nearly killed off a few weeks ago. All desire for food had been quashed at a Senglea establishment. The memory of that gruesome dining experience haunted me still. But I wasn't going to dwell on that nightmarish dinner any longer. I was now in search of comfort food. And it came in the form of calamari. Carmen's calamari, to be precise.
We had gathered for lunch at Għar Lapsi, a wild and windy stretch of seashore of rugged beauty. Located just above the picturesque Għar Lapsi cove, with Filfa sitting stoutly on the horizon, Carmen's Bar brims with rustic, old-world charm; splendid in its raw simplicity. This is a fisherman's boathouse that has been converted into a small, unassuming bar-restaurant.
Carmen's is a strictly family affair. Father, mother and son take it in turns doing the cooking. Whoever isn't in the kitchen is handling front-of-house.
You might not like the idea of working alongside your spouse or your mother, elbow to elbow, six days a week. But here, things run very smoothly. Like clockwork,  dishes are quickly prepared and efficiently served up and, despite being crammed together into a small kitchen, not one member of this family seems to harbour the desire to murder the other.
Dining is al fresco on the boat ramp right outside the restaurant, and extremely casual. Plastic chairs and tables are settled, some rather unsteadily, on the slipway. We sat nestled among brightly-coloured fishing boats and stray cats. Lots of them.
One or two cat hairs may find their way on to your food, blown by the wind. But never mind. Carmen's Bar is a happy place. This quaint restaurant is bathed in sea air and sunlight. The atmosphere is boisterous and easy and already I was comforted by the warm welcome we had received and the smells wafting from the kitchen.
Prices are very reasonable here; €40 per head was what we paid for a three-course meal. At our request, the kitchen churned out a stream of largely calamari-based dishes. We began with an inviting starter of perfectly seasoned calamari fritti,  served in a little colander lined with greaseproof paper. The rings had been fried to crunchy perfection and had a satisfying chew. The batter had crisped up beautifully ensuring a golden coating with just the right amount of grease. I loved them.
We revelled in the pasta of calamari and sea urchin. The spaghetti alla chitarra was gorgeous, the fresh egg pasta coiling into forkfuls of silky lusciousness. Roughly chopped juicy tomato flesh formed the basis of the sauce, infused with olive oil and fresh herbs. Tossed and worked through the richly flavoured sauce were the tender calamari pieces that brought texture and fuller flavour to the dish. But something was missing from this delicious pasta sauce – the much trumpeted sea urchin. This sublime delicacy had been entirely eradicated, its delicate salty sweetness drowned out and eclipsed  by the rich tomato sauce. It could have quite possibly been left out altogether.
It was a fish and some more calamari for our shared main course.
The Ċipullazza (Scorpion fish) cooked all'acqua pazza was delightful. Cleaned at the table, tranches of perfectly cooked fish were swiftly plated up; the large, firm flakes barely holding together.
Good, honest, thoroughly enjoyable food
The fish had been poached whole using the simple cooking style of acqua pazza. The term literally means 'crazy water' and references the history of this tasty method of cooking white-fleshed fish; Neapolitan fishermen originally poached freshly-caught fish in seawater.
Cooking  the ċipullazza  in a seasoned broth, the acqua pazza, that had been flavoured with salt, garlic, oil and cherry tomatoes ensured that the fish remained succulent and moist and fantastically flavoured. I'd have loved to have dredged hunks of Maltese bread through it.
The ċipullazz was a lovely, quality fish. And to be eating it here, above this gorgeous cove, made it more special – the bracing sea air further enhancing the flavours of the dish.
The succulent stuffed squid, packed with whole pistachios and fresh local cheeselets, were beautifully cooked, pan-fried until the skins began to brown. Stuffed  to the gills, the calamari ripieni enjoyed a pleasantly smoky flavour. The ġbejniet and pistachio mixture worked well as a stuffing and beautifully complemented the squid. Lunch had taught me something about myself. I do not tire of calamari very easily.
We wanted dessert. The prettily presented platefuls of dainty little puddings more or less matched up to the savoury courses. There was a divine, devilishly decadent dark chocolate fondant; a very mediocre baked cheesecake and a 'cream caramel surprise' that was agreeable enough and full of the bitter notes of the burnt cream. This rugged coastline attracts strong cooking, especially with regard to seafood. From the delectable Corsaro in Wied iż-Żurrieq to Carmen's Bar that dishes up colourful, rumbustious Mediterranean cooking.
This is good, honest, thoroughly enjoyable food that is not showy in the slightest; cooked quickly and served with the  broadest of smiles. It is not food that is earth-shatteringly sensational or out-of-this-world innovative, but it is very pleasing.
Carmen's Bar is as unpretentious as it gets. This family establishment is not attempting to be anything other than what it is. It is a restaurant of modest ambition – the quiet ambition of getting things right and pleasing the customer. The food is neither delicate nor sophisticated, neither is the restaurant itself.
In spite of this, Carmen's Bar is precisely what many of us crave. Who doesn't want to gorge on freshly-caught seafood, al fresco, in lovely surroundings? It has all the ingredients a good restaurant requires. I still haven't the faintest clue who Carmen is.
Her bar has certainly won over everyone, having successfully attracted both the poshos from Sliema and the locals from nearby Siġġiewi and Żebbuġ.  It had been a truly lovely lunch with very enjoyable food. I would absolutely return for some fish and a glass of wine, time and time again.
The review of Delizie Siciliane titled 'Dolce Sicilia' that appeared on September 24 has no relation whatsoever to the establishment Dolce Sicilia Ltd.
https://www.timesofmalta.com/articles/view/20171022/food-drink/A-family-affair.661113